Ant Pest Control in Pakenham
Are you looking for ant control in Pakenham? Contact our expert ant removal services from Ant Pest Control Melbourne. We can help tackle ant infestations and give 100% relief from ant issues. Homes and commercial businesses in Melbourne are frequently plagued by various species of ant pests, which can pose a health risk by spreading germs and bacteria. These pests can also contaminate food and lead to diseases. If left untreated by appropriate pest control measures, ant populations can grow and reach a level of infestation. Ants cause damage to electrical wiring and equipment such as hot water services, air conditioning units, stoves, and fridges, as well as nesting in walls or roof spaces.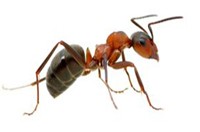 Get Rid Of Infestations With Our Ant Removal Treatments
At Ant Pest Control Melbourne, we conduct a thorough inspection of your premises to detect the presence of nests and mud piles, and infested areas. Based on the findings, we customise techniques and processes such as chemical treatment, fogging, and smoke therapy to completely get rid of the ants. We seal their entry points after the treatment so that there is no room left for future infestation. Last but not least, it is important to assure that not a single ant is left behind; therefore eco-friendly poison is introduced to attain 100% ant eradication from your premises.
Why Choose Our Expert Ant Control In Pakenham?
With years of expertise and backed up by a team of state-licensed and certified technicians, we provide fast and efficient ant removal in Pakenham and surrounding suburbs.
Our targeted ant control involves in-depth inspection, using effective baits and ant control treatments to provide complete relief to our customers.
Every ant infestation is different; that's why we provide personalised and tailor-made ant removal solutions to suit your needs.
All our products and methods are eco-friendly that's safe for your family and pets.
We use state-of-the-art equipment and the latest technologies to provide long-term protection and prevent future ant infestations.
If you are looking for ant removal in Pakenham, call Ant Pest Control Melbourne on (03) 8592 4707.