Ant Pest Control Noble Park
Are you tired of dealing with pesky ants invading your home or office in Noble Park? Look no further than Ants Pest Control Melbourne for effective and reliable ant removal services. With our extensive experience and dedicated team, we guarantee to rid your property of these unwanted guests and provide you with a pest-free environment.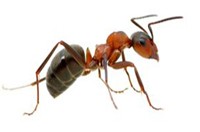 Our Ant Control Process in Noble Park
At Ants Pest Control Melbourne, we employ a comprehensive and tailored approach to ant removal. Our team understands that each infestation is unique, requiring a customised solution.
Thorough Inspection
Our expert technicians will conduct a detailed inspection of your property to identify the type of ants, their entry points, and the extent of the infestation. This step allows us to devise an effective treatment plan.
Customised Treatment
Based on the inspection findings, we develop a personalised treatment strategy to address your specific ant problem. We utilize safe and environmentally-friendly methods to eliminate ants without causing harm to you, your family, or your pets.
Targeted Application
Our skilled technicians will apply the chosen ant control treatments strategically, targeting the ant colonies and their nests directly. We focus on both eliminating existing ants and preventing future infestations.
Follow-up and Monitoring
After the initial treatment, we conduct follow-up visits to ensure the effectiveness of our ant removal efforts. We closely monitor the situation, making any necessary adjustments to our approach for long-lasting results.
Why Choose Us?
We have a team of highly trained professionals with extensive experience in ant removal to tackle infestations effectively. Our treatments are eco-friendly, ensuring minimal impact on your surroundings while effectively eliminating ants from your property. With our tailored solutions take into account the specific needs of your situation, providing you with targeted and efficient ant removal services.
If you want to enjoy an ant-free home, let our experts handle your ant problem efficiently and professionally. We can guarantee you a pest-free environment with our reliable ant removal services. For inspections, call Ant Pest Control Melbourne at 03 8592 4707 today.